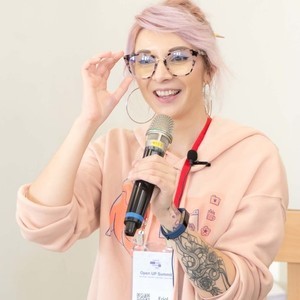 Eriol Fox
Co-Host of Sustain Open Source Design
Eriol has been working as a Designer for 10 years working in for-profits and then moving into NGO's and open source software organisations, working on complex problems like sustainable food systems, peacebuilding and crisis response technology. Eriol now works at Open Food Network and is part of the core team at Open Source Design and Human Rights Centred Design working group and is working towards a Comp Sci Phd at Newcastle university researching how designers are involved in humanitarian focussed OSS.
Eriol is a non-binary, queer person who uses they/them pronouns. Their non-work time is spent playing video games, table top rpg's, gardening and reading.
Eriol Fox has hosted 15 Episodes.
July 28th, 2021 | 35 mins 29 secs

Jan Dittrich, a UX Designer and Researcher, joins us to talk about their work with Wikimedia, their PhD on self-directed learning, and thoughts on open source and nerd culture.

June 15th, 2021 | 38 mins 53 secs

Abraham Jr. Agiri joins us to talk about how we, as designers, interface with open source in a sustainable way, how we integrate into different communities, and how we, as coders, work with other designers.

January 29th, 2021 | 25 mins 27 secs

The introduction podcast for Sustain Open Source Design, covering what open source design means, why it is important, who are panelists are, and how we plan to cover these topics in future episodes.